This customer lives in the Lakeway area off of Spillman Ranch Loop. His address is an Austin address, therefore we made this a solar screens Lakeway TX installation. The gentleman that I worked with for this home was an outstanding human being. He's an educator at the Lakeway Texas High School. We used the chocolate brown solar screen fabric with framing. It's really hard to tell by these pictures that the fabric used was the chocolate brown, but it was.
17 SOLAR SCREENS Lakeway TX Installation
We completed this solar screens Lakeway TX installation on June 28th 2017. We installed a total of 17 solar screens, including three arched solar screens and one solar screen for his patio door.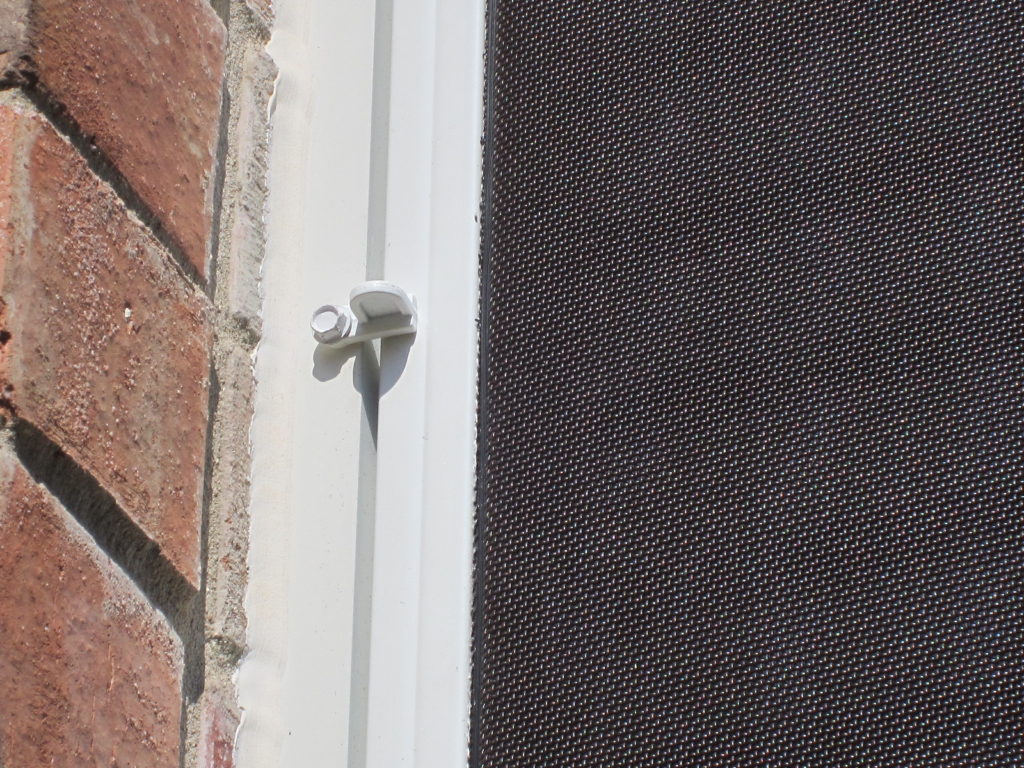 Many of these windows are pop-ins, they have a track at the top and a track at the bottom, so we spring loaded the screens with heavy-duty leaf springs installed at the top of the solar screens. In addition to that, because this area of the home gets a lot of wind, we also added flush turn Clips at the center leg height for each of these opening windows. Flat flush turn clips will keep that screen pushed up against the window, so the homeowner never has to worry about wind coming along and pulling the screens off.
Generally what will happen if a screen gets pulled off by the wind, is that the screen was already pushed out for some reason. Most the time it's because of a large pet, like a Dog, or a child. I rarely have to go over to people's homes to put solar window screens back on to Windows because I'm so good at putting them on in the first place. The times that I can recall where I have had to do it, were from years in the past when I didn't use these flush turn Clips as consistently as I do now.
I remember clearly a particular time I went over to a person's house and repaired (rebuilt) a screen that got blown off of the window. The window was open, and no sooner than I put the screen back on to the window, one of their very large dogs came over and started pushing the screen out. That was the reason why the screen came off in the first place. I remember another time around 5 years ago being called out to Pflugerville, I get out to Pflugerville and you can tell by the screen, it was bowed out, pushed out, at the bottom, and it was for that of a child's bedroom. We all have children, so we know that this happens. And I was very much sympathetic for the homeowner and of course I didn't charge him anything for the trip.
About this Lakeway solar screens installation.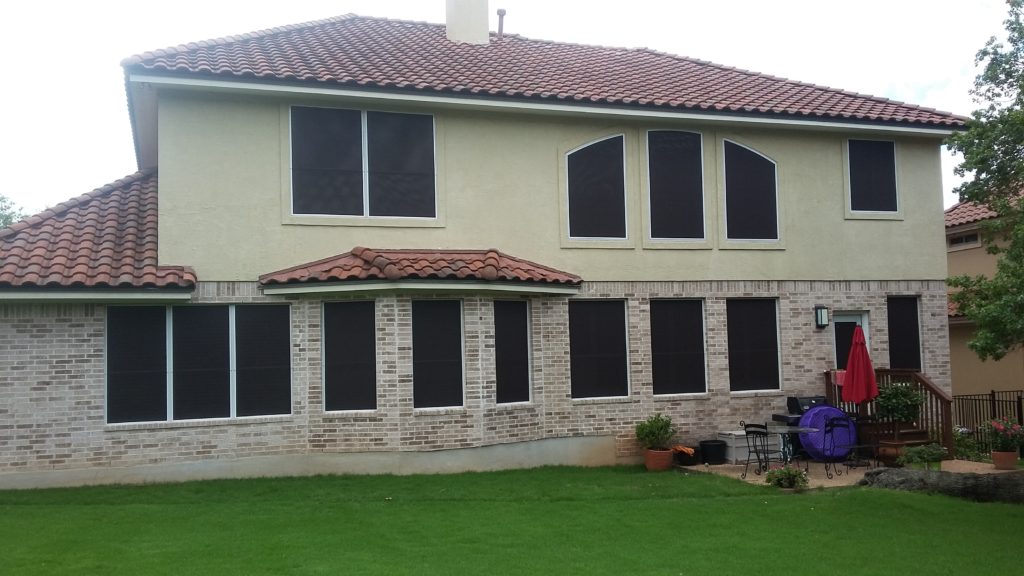 For this solar screens Austin TX Project, the three arched Windows there on the second floor and the solar screen for the back patio door, we screwed those on with our small 3/4 inch screws. For all non-opening Windows, we screw the screens on to the channel framing going around the glass. That channel framing is there to keep the glass held in place.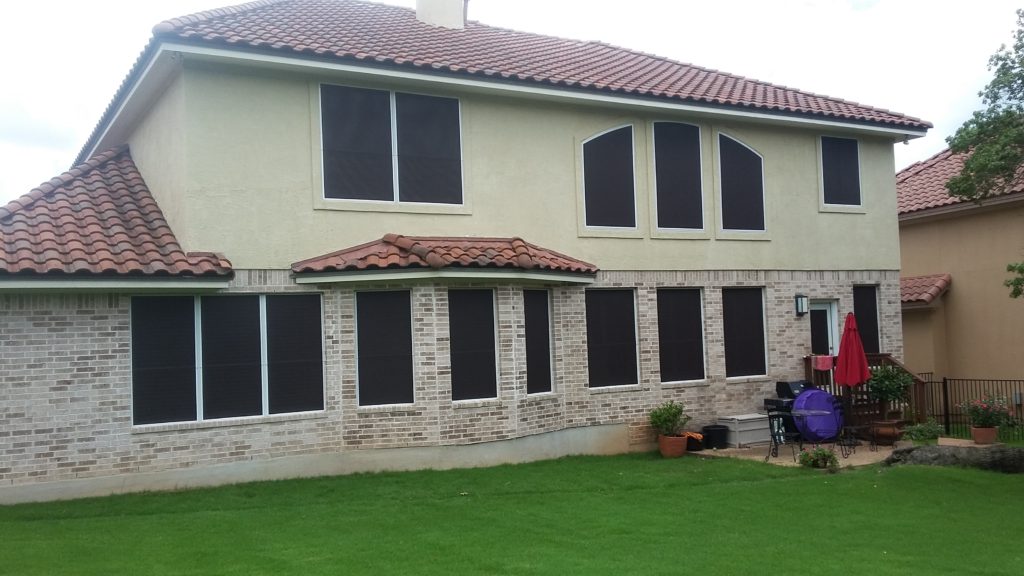 Installing solar screens on windows with bent tracks.
This installation was a little problematic, I remember well. Quite a few of those first floor Windows there had elevated uneven bricks underneath the bottom of the window frame, making it difficult for the screens to fit into the windows. We had to customize quite a few of these screens by cutting one side down an eighth of an inch or so. And, we had to re-roll the framing while we bent it so that it would wrap around the curvature of those bricks. What happens is the masoners will lay their bricks, and when they get to the window, it may be a tight fit to put the bricks in, so they put the bricks in and they sometimes have to make up some room, so they'll bend the bottom of the window frame up. Well, when this happens, the bottom window frame, the bottom track that the solar screens fit into, get bent. If you put a straight edge on that bottom window frame, you will see that it's not perfectly level, you'll see that it is bent upward. Now you can take that same level, or straight edge and if you put it onto any of the windows that are installed without the brick, you will see that that bottom window frame is straight. So what happens is masoners start at the bottom, start laying their bottom rows of bricks and they work their way up.  When they get to the window, they have to judge that 4 inch or so for additional bricks. Bricks for the bottom window seal. Now, if they only have 3-1/2″ and they need 3-7/8″, they're in trouble.  What they will do is that they bend up the window frame to make room for those window seal bricks.