We are an Austin TX exterior patio roller shades manufacturer. We make exterior roller shades for the patio, called exterior patio roll shades.
Our installed Roller Shade Pricing is hard to beat !
We also make commercial roll shades for windows.
We make our exterior patio roller shades using our 90% on up to 97% shade fabrics.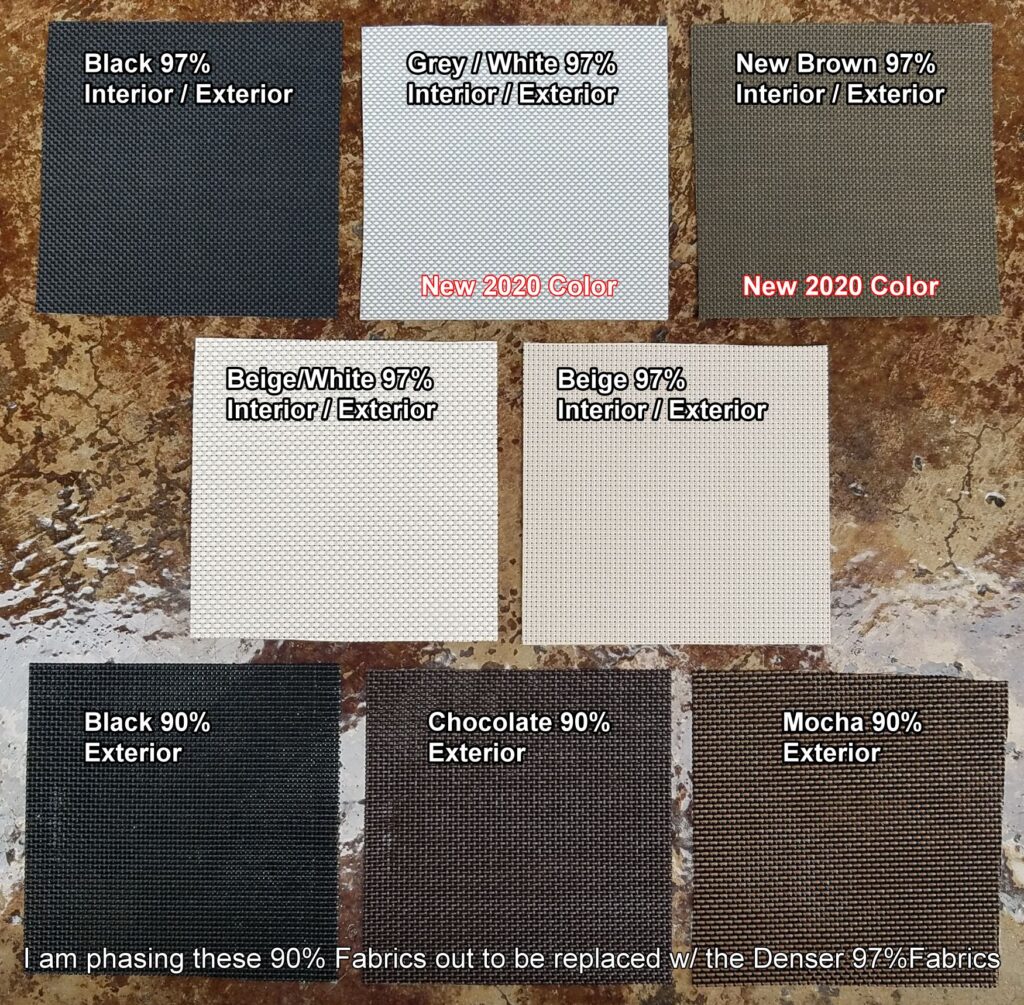 We can make your exterior grade patio roller shades out of the same fabric that we use to make your solar window screens out of so they look the same.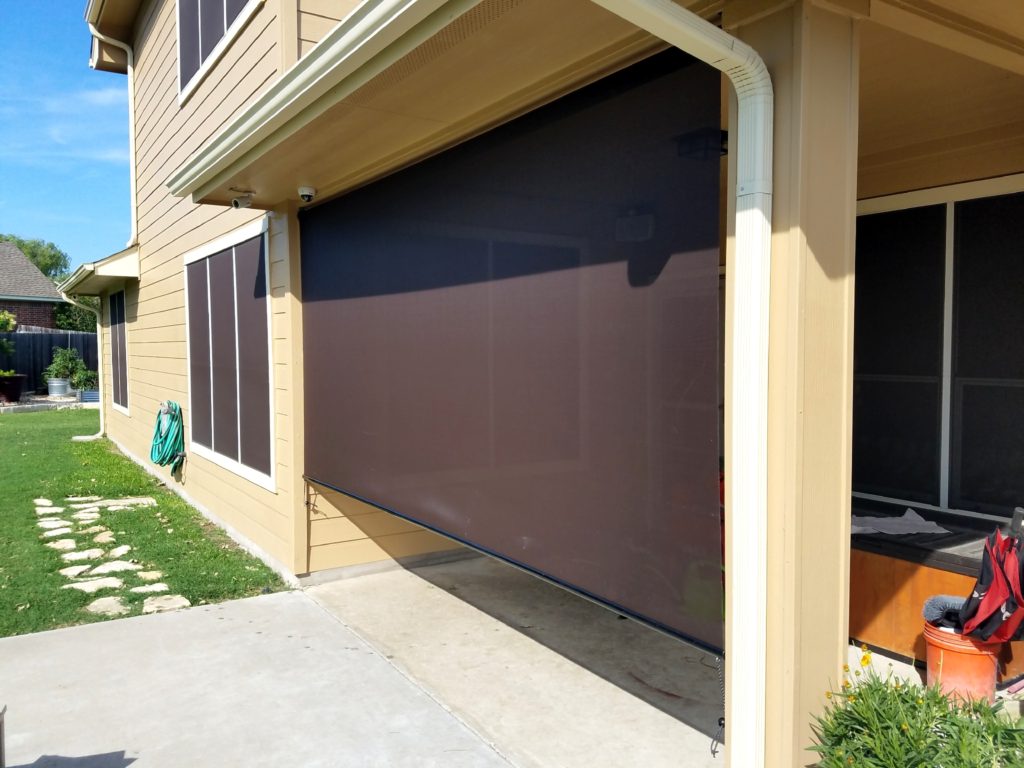 So, if you are getting solar window screens from us, you can also get patio roller shades from us made out of the same fabric. We can make solar window screens and patio roll shades for you using our Textilene 90% solar screen fabrics. Fabric color options for this are 90% chocolate, mocha black.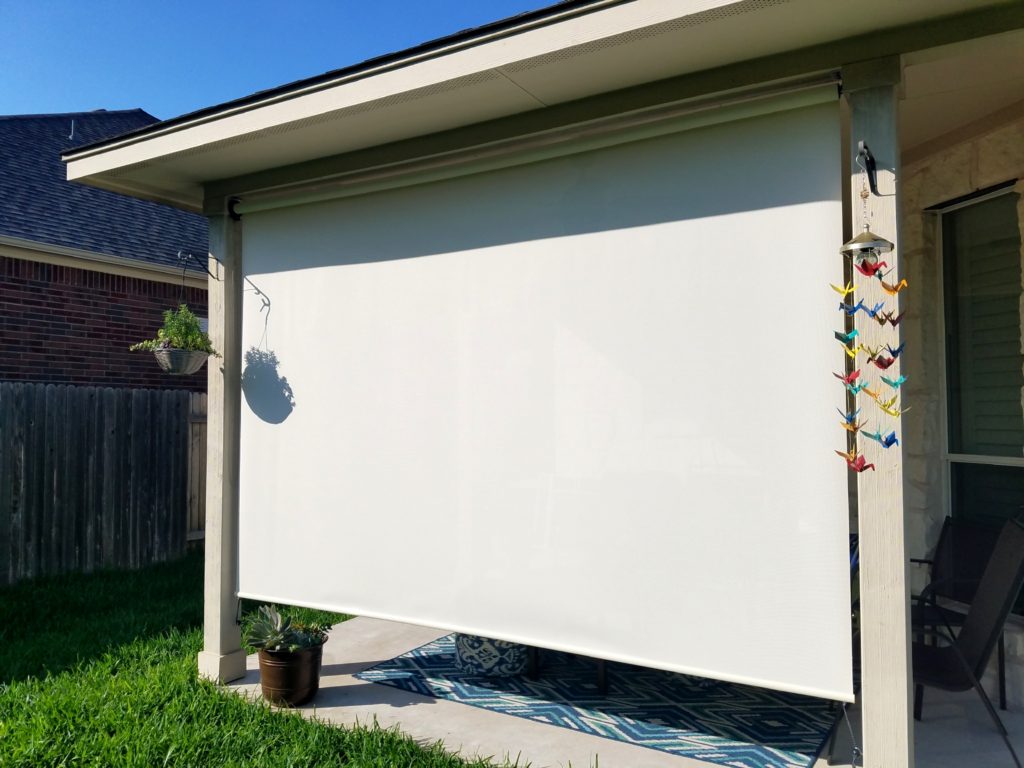 Additional higher density shade fabric options and colors that we have which are only available for our exterior patio roll shades are 92% beige / white, 97% beige / white, 97% beige and 97% black. We can not make our solar window screens out of these higher 92% and 97% density fabrics.
We make our Roller Shades right here in Austin TX out of USA Made materials.

When you buy from us, you buy from the manufacturer and you save !
Patio Roller Shades and Commercial Roller Shades. We proudly are one of the few Exterior patio roller shades Austin TX manufacturers in our area.
Hardware for Exterior Grade Patio Roller Shades
All of our exterior grade patio roller Shades come with high-end Rollease Acmeda G400 or G25 heavy duty clutches. We only use stainless steel pull chains for our patio exterior roll shades, we don't want anything that will break out in the Texas Heat. And, we DO NOT use a crank system. My experience with crank systems is that they take forever to crank up and down, and are more of a nuisance than anything to operate. I hear this from customers all the time that have Costco outdoor patio shades. With a pull chain, you can take the roller shade down then back up fast without hassle.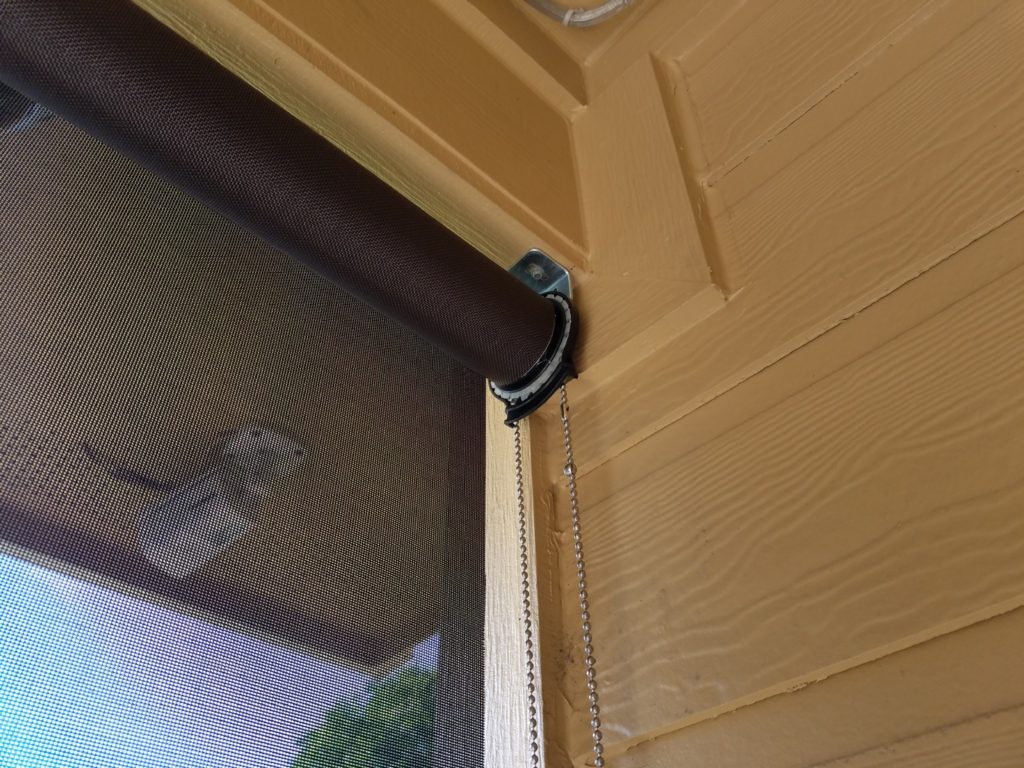 We use a very strong heavy duty aluminum bottom rail with eye Hooks and bungee tie-downs to hold the shades down.
Here' s a picture showing our bungee tie down system. It's simple and effective.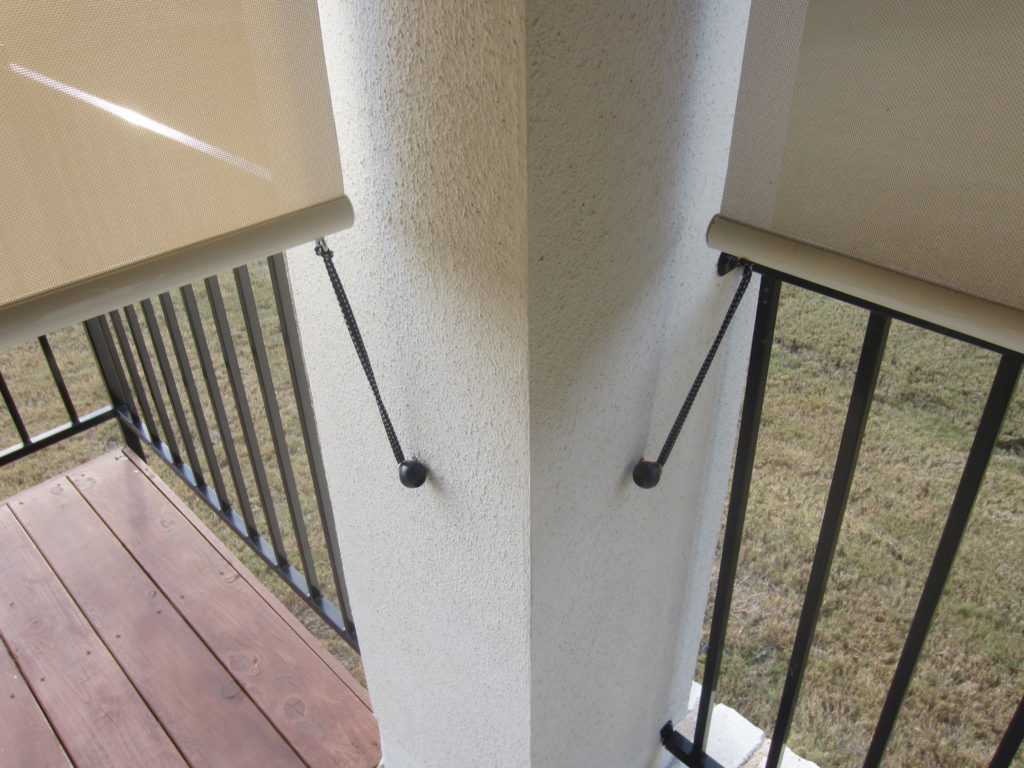 Thes tie downs keep the patio roller shades from blowing around in the wind. It is important to tie down the patio roll shades so that the wind does not blow them around. The wind is very powerful and can push these shades around easily if they are not tied down. At night you have to roll the patio roll shades up, you do not want to leave them down at night in case you have really strong winds.
Because we are the exterior patio roller shades Austin Texas manufacturer, you save drastically. You completely cut out the middleman by going direct with us. We direct sell our patio roll shade screens to installers (contractors) all over Austin. Our roller shade pricing is REALLY good!
We can sell to you at ridiculously low installed or DIY prices.
To get an idea of how inexpensive our Austin Patio Roller Shades are, here are some pricing examples.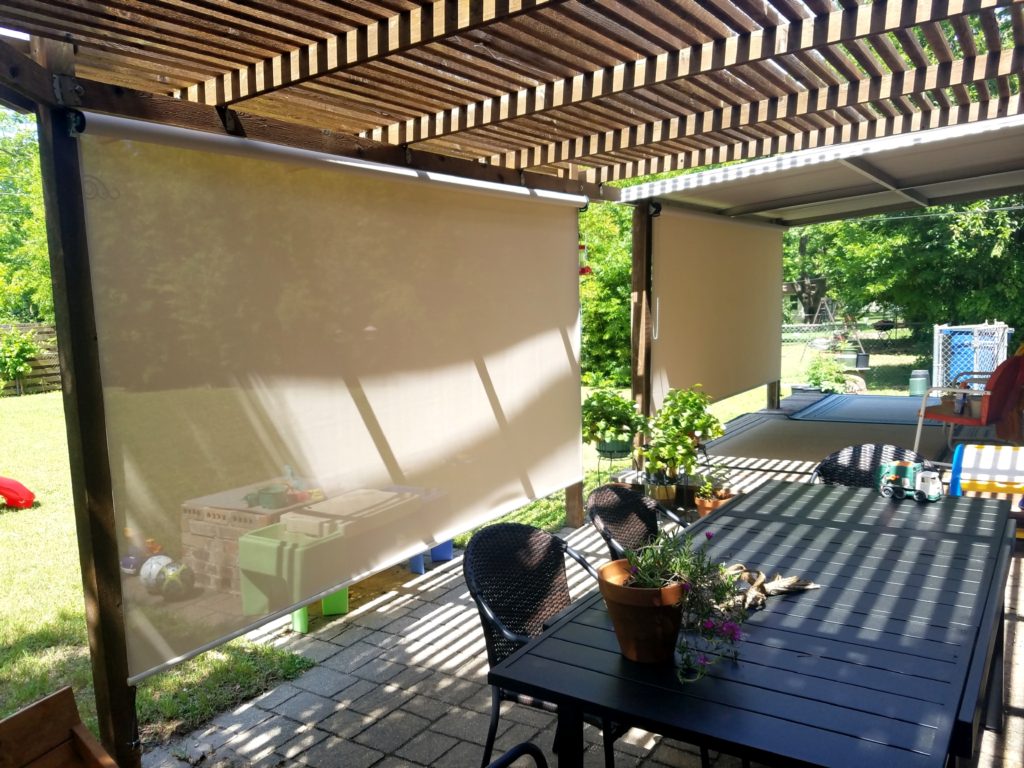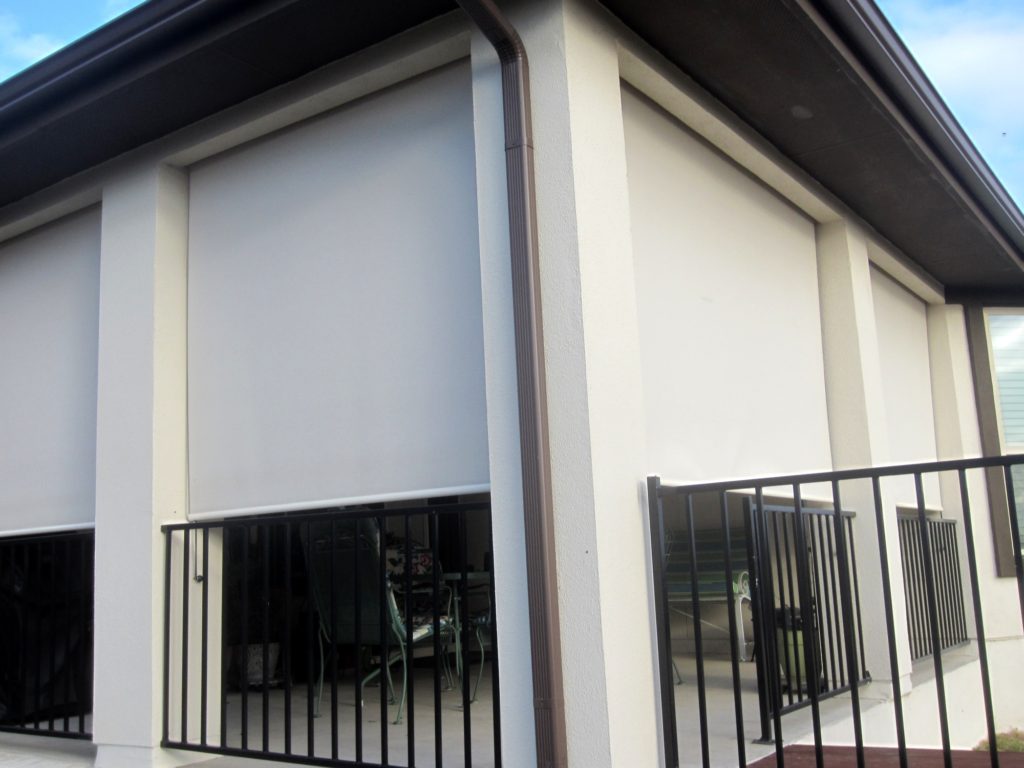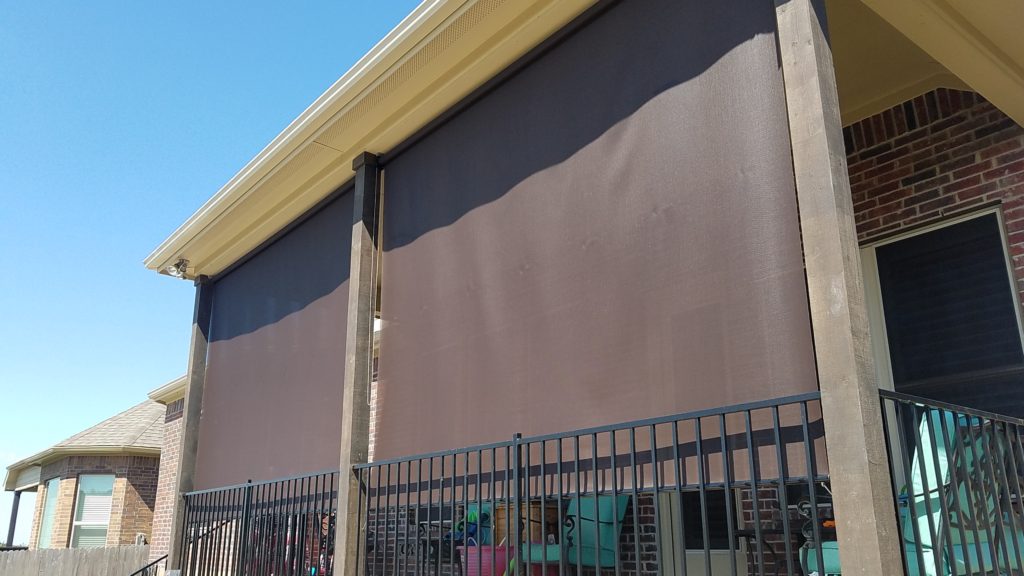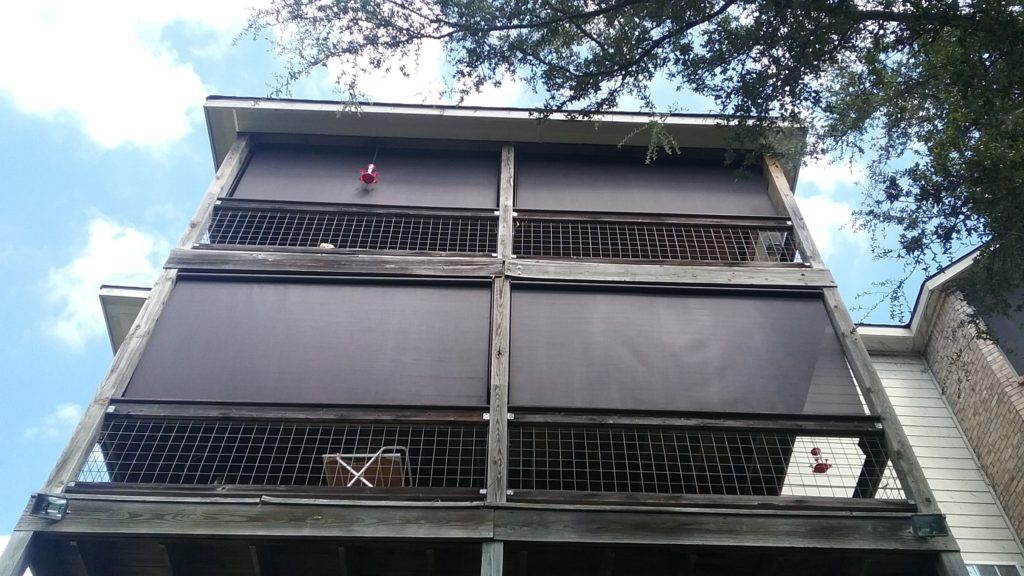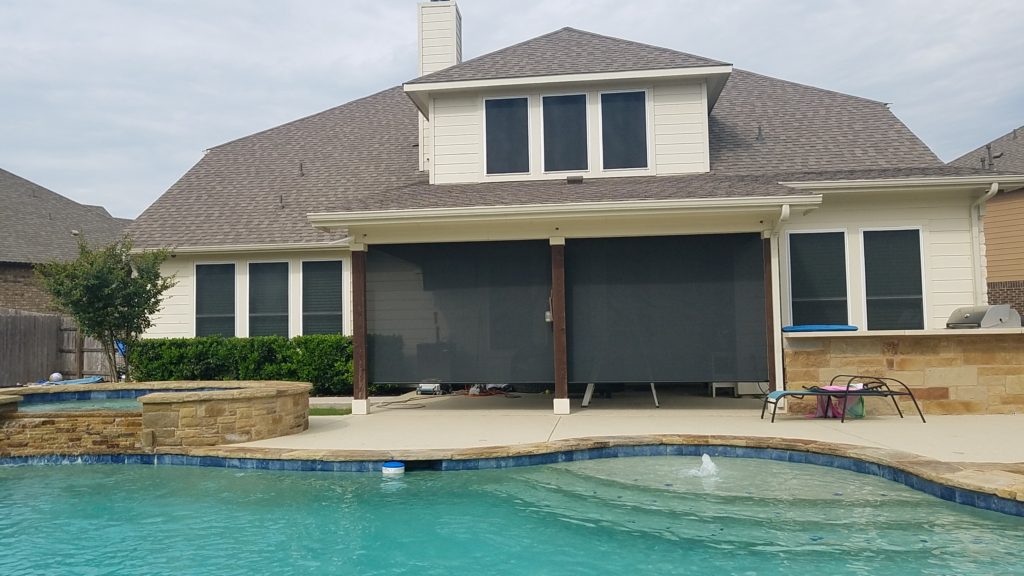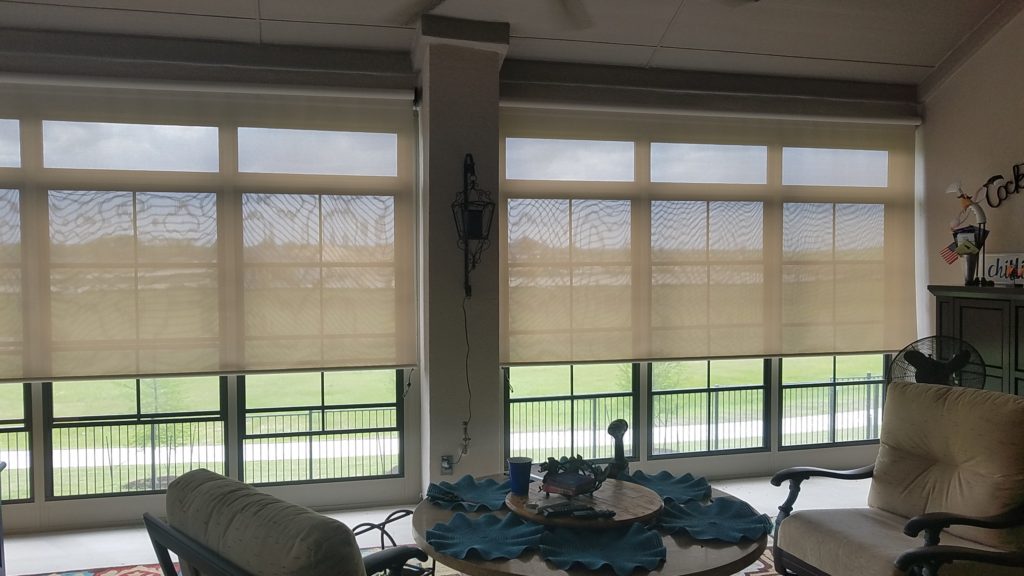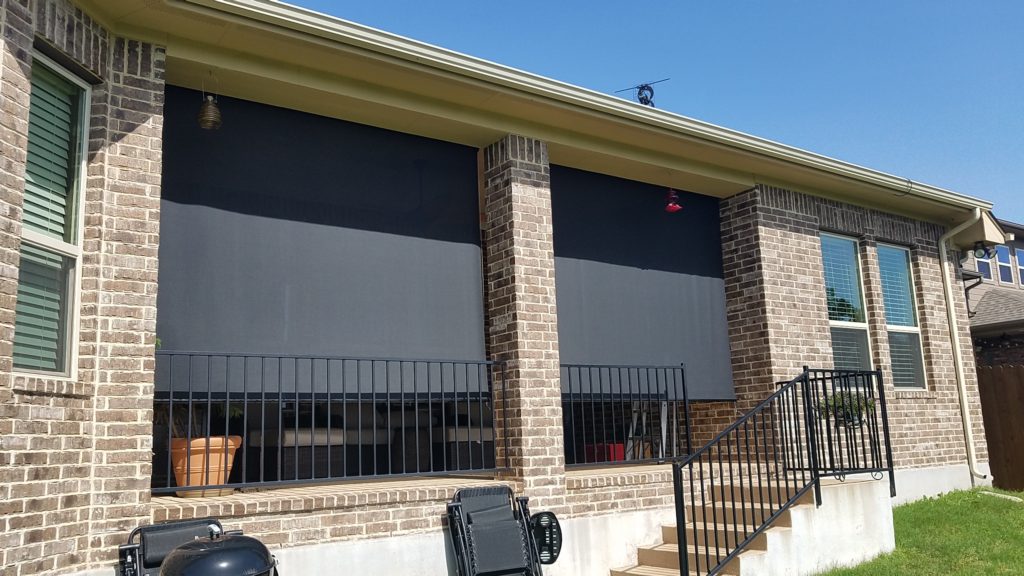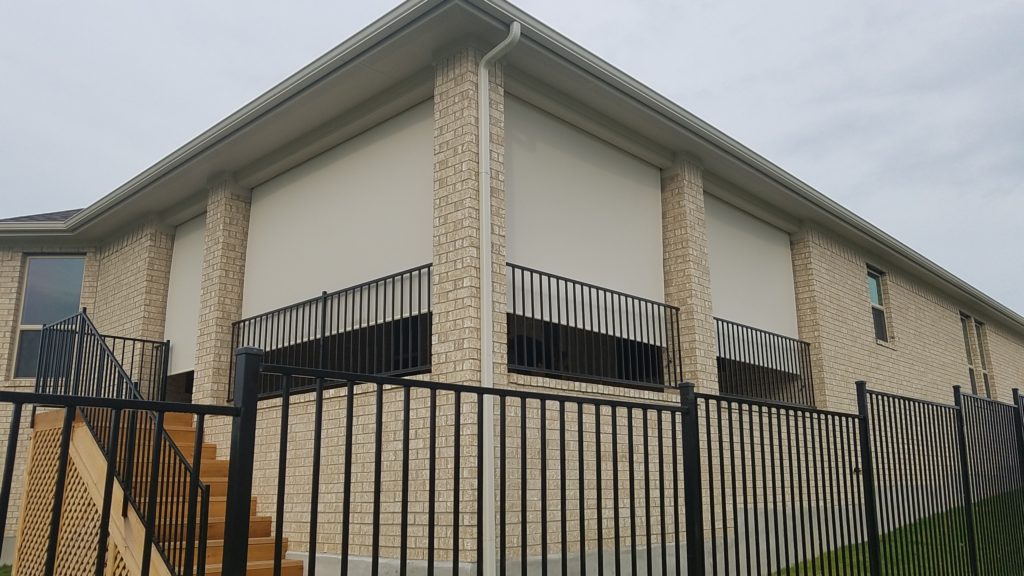 Patio Roller Shades – Q&A
Question:
When would you use an exterior patio roller shade? Why would you want one?
Answer: Exterior patio roller shades are meant for temporary patio shade, not permanent shade. Permanent shade would be our solar screens Austin TX product that would fit over a window. Exterior patio roller shades are made to provide temporary shade when you need it and meant to be rolled up when you do not.
Question:
Can I put an exterior roll shade for a patio on my windows. Put them over my windows?
Answer: No, that's what our Austin TX solar window screens are for. The roller shades come with a heavy hem bar at the bottom that you would not want to be near glass where the wind could blow it around to break the glass. Plus, after a few times of going outside to roll the roller shade down, then at night to roll it back up, after few times of that you would get tired of it.
Question:
Can I put a patio roller shade on my front patio, to shade my front door?
Answer: You absolutely can. It's just a matter of finding a place to mount it. Here are some pictures that show what it looks like doing so.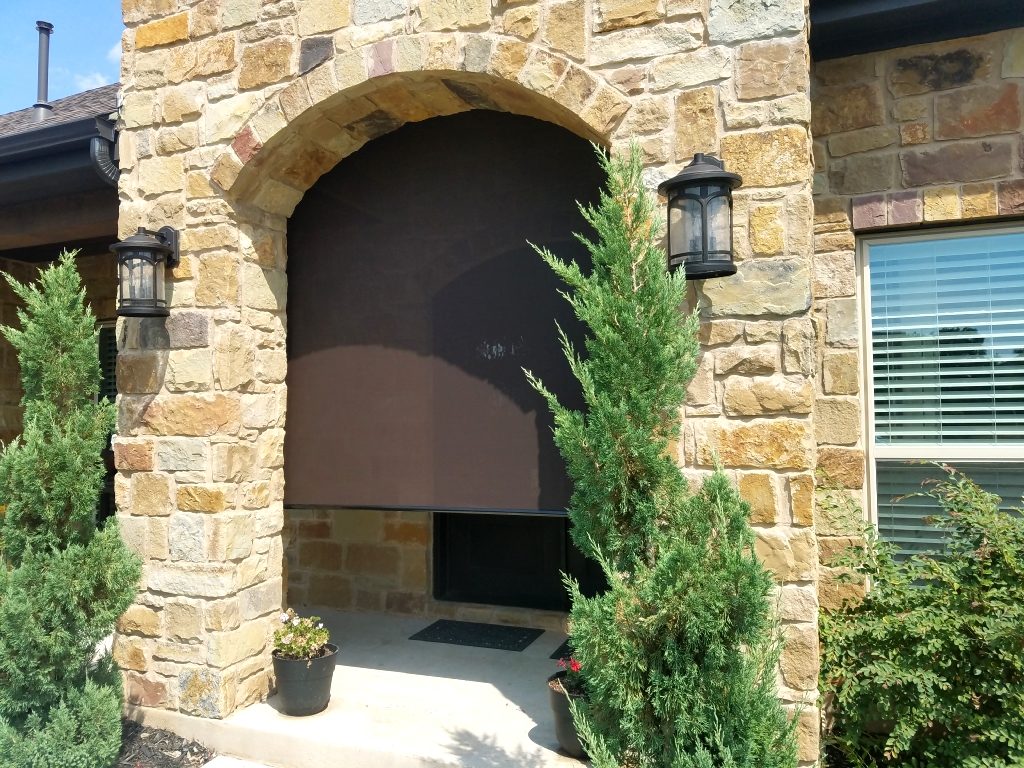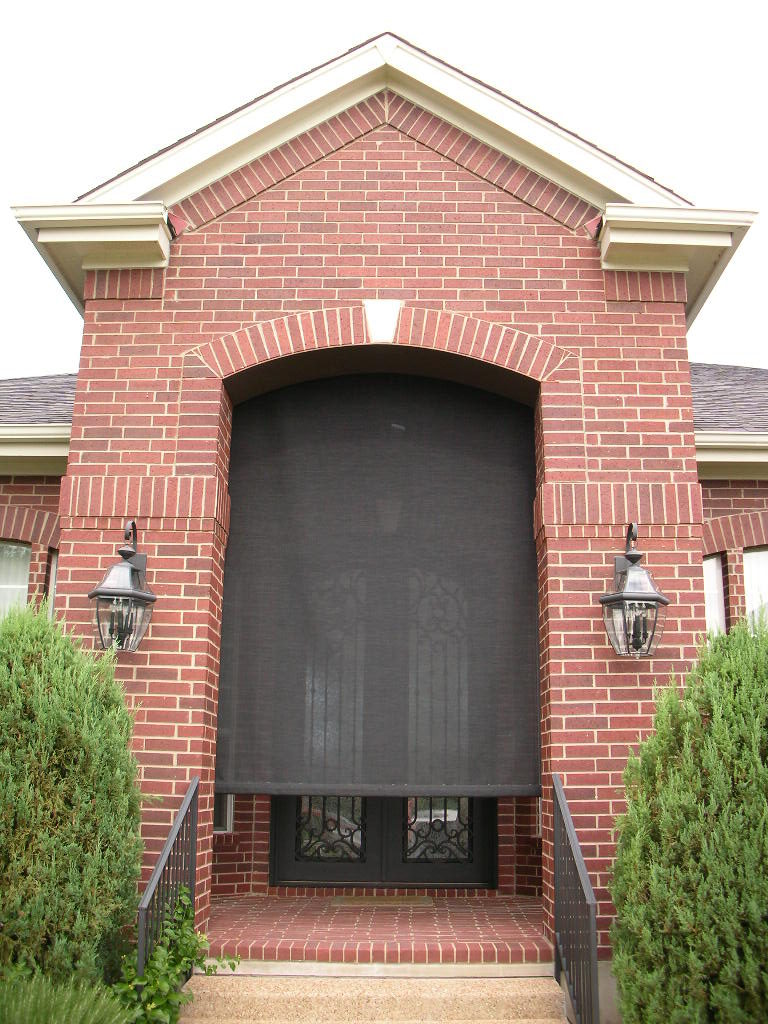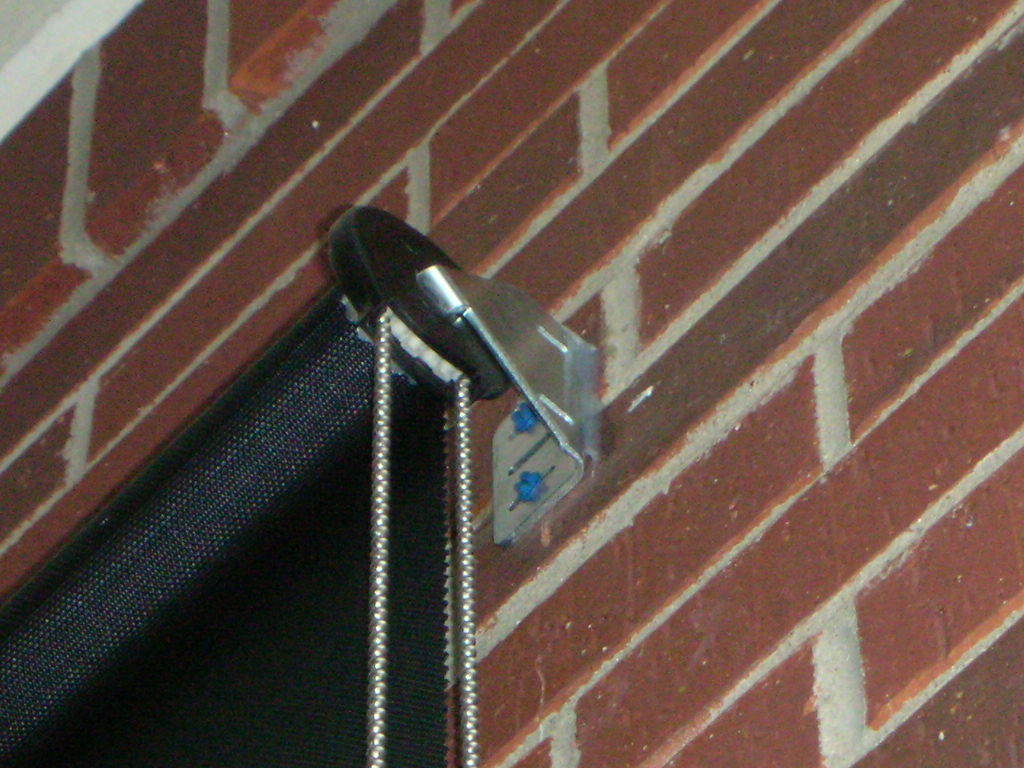 Question:
How well can you see through the densest 97% exterior patio roller shade fabric that you have?
Answer: Very well, take a look at the following pictures.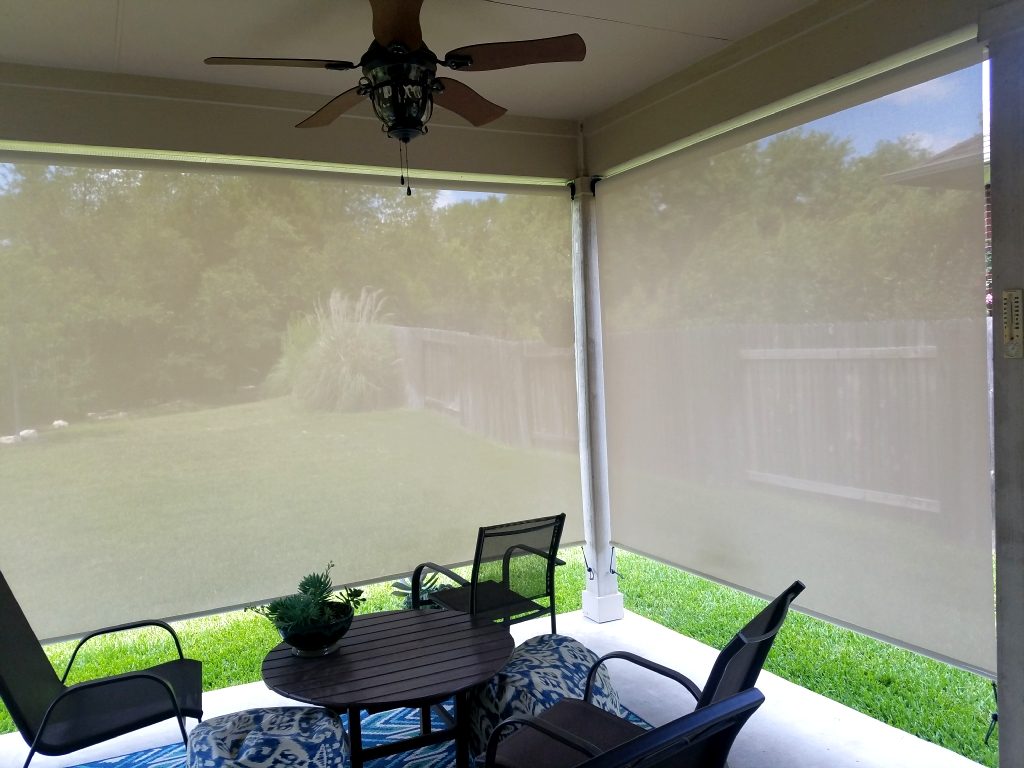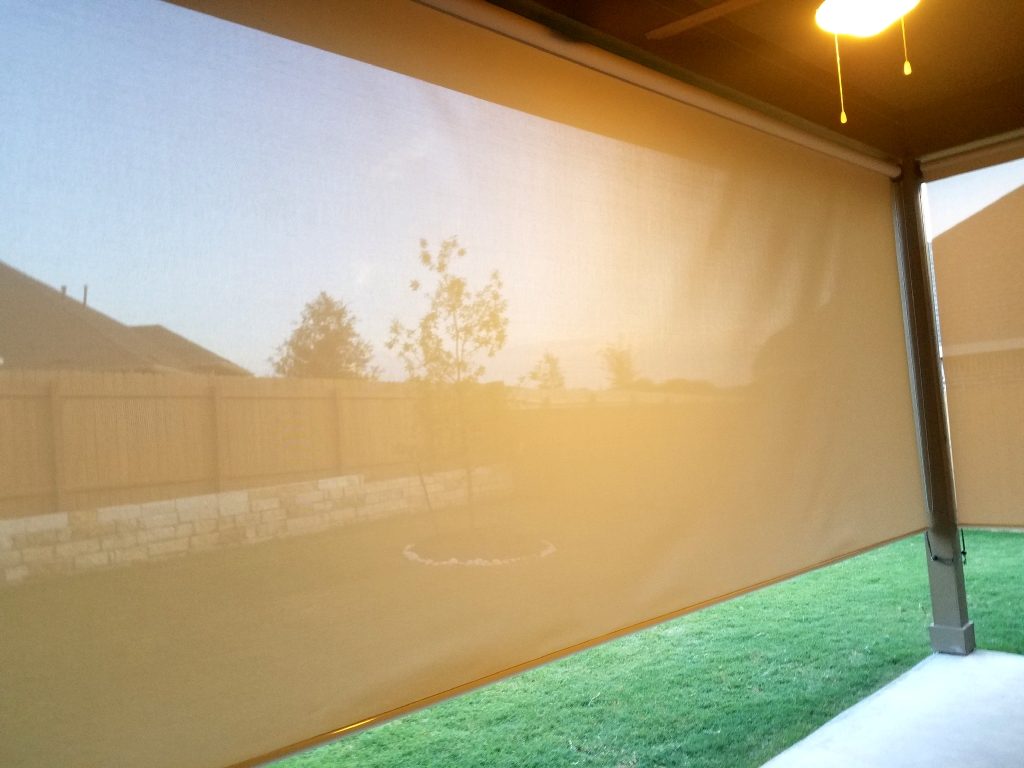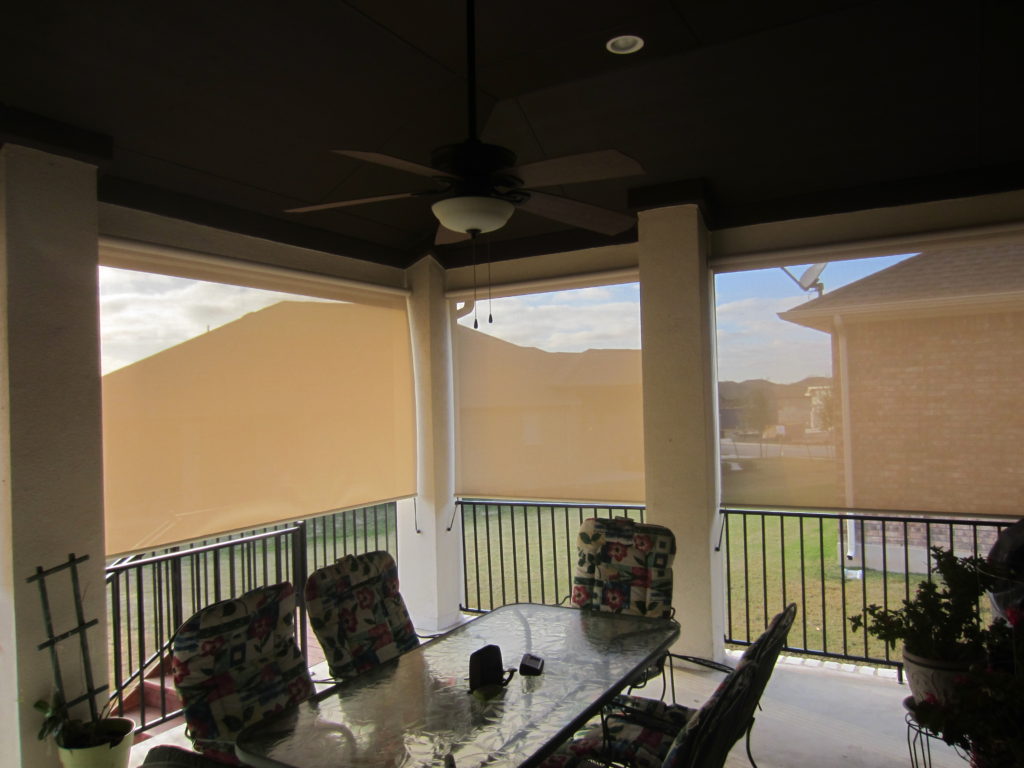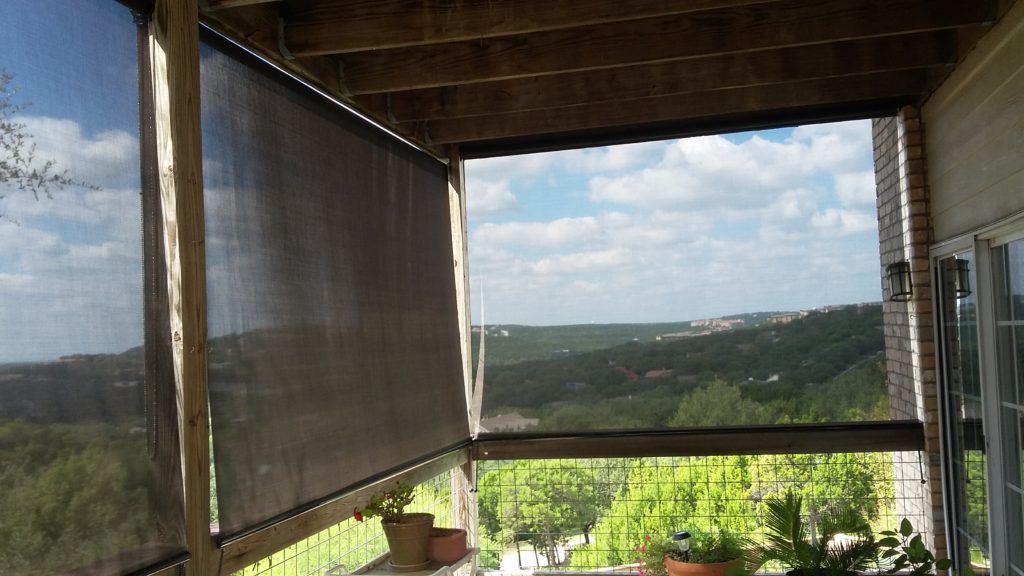 Question:
I see that you are an Austin Texas roller shade manufacturer. Do you just sell as an installed service, or do you sell you patio roller shades directly, for self-installation?
Answer: For self-installation, you can buy our exterior roller shades or our interior commercial roller shades direct from HobbsScreens.com