I use the Twitchell Textilene exterior solar shading fabric for my solar screen fabric colors, to make my exterior solar window screens out of.
The fabric that I use is Twitchell's Textilene exterior shading 80% fabric, and Twitchell's Textilene exterior shading 90% fabric.
My solar window screens can be made from six different Twitchell Textilene solar screen fabric colors.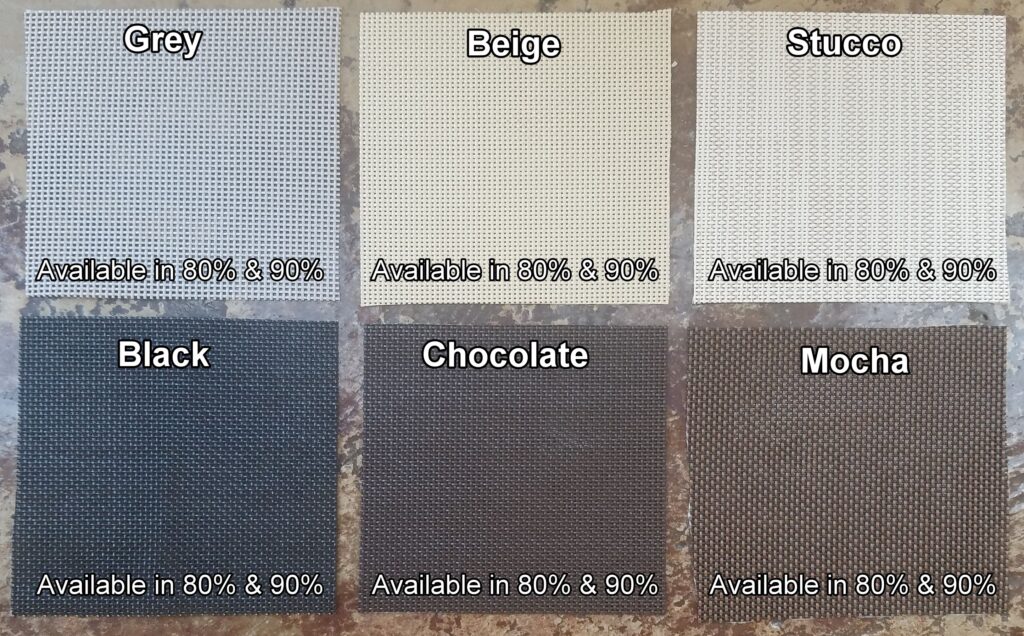 Out of any of these six solar screen fabric colors, I can make 80% solar screens and 90% solar screens.
Each of these fabric colors are available in either the 80% shade or 90% shade options.
The Mocha fabric is a unique one to us, made specifically for the Austin Texas area. Austin homes use a lot of locally quarried sand stone. This sandstone goes very well with the Mocha fabric. The Mocha fabric also adds an accent to homes that have Austin limestone, as there are flecks of gold within the limestone that match with the Mocha color very well.
Does one fabric color work better than others?
All of my solar screen fabric colors work the same as those of the same density. It is not about the color of the fabric, it is however 100% all about the shade level density. My shade level densities are 80% and 90%.
As far as one color working better than the other, I would look at more like does one color make more sense than others. And what I mean by that is will one color by higher maintenance than other colors? The answer to that is a resounding yes. A lighter colored fabric, ie Beige, Grey, Stucco, will all show dirt verses the darker colors.
The lighter colors will require yearly cleaning to continue to look new. The darker colors will not show this dirt and grime.
Vision that black grime that you see on the side of homes, on that of stone. This same thing happens to the solar screens. The darker the fabric color, the less you will see this black grime.
Watch this video as it shows cleaning a lighter colored Beige solar screen fabric color that has this grime on it.
You can also clean the solar screens while in place hung on your windows. Use the pressure washer with a wide tip nozzle (very important), and spray the solar screens in place. You will need someone on the inside of the home with a towel to dry up the water that gets into the home.
Where to get Pricing for installed patio roller shades and solar window screens in Austin Texas.
Will one solar window screen fabric color last longer than any of the others?
All of my Austin TX solar screen fabrics are made the same way. Meaning none of my solar screen fabrics are inferior to one or any of the others.
They will all last the same.
They are all the same Twitchell Textilene fabric.
80% and 90% will last the same.
Long-lasting and very durable.
Pet and hail resistant.
Woven with a polyester yarn and then coated with a sun-resistant long-lasting PVC coating.
For sure, the black will not last longer than the beige, nor will the beige last longer than the black. They are ALL equal. My particular Twitchell Textilene 80% and 90% fabric will last the same.
They are made the same. The are woven with a polyester yarn then coated with a sun control PVC coating. The fabric is made to last, made to be in the sun.
Will one sun control fabric density last longer than the others?
I can't see my 80% fabric lasting longer than my 90% fabric. Or my 90% fabric lasting longer than my 80% fabric. In short, both of my 80% and 90% shade density fabrics are made the exact same way. Altogether by the same manufacturer. One fabric density (90%) is just a little thicker than the other (80%).
Will the sun-shade fabrics fade?
With certainty, I can say for sure that over a 10-year span the fabric will not fade while in direct sunlight. All over Austin Texas, I have installations that have been up for 15 years and they still ALL look great. These examples of homes are all over Austin. I see MANY homes every day when I am running my route going through the subdivisions with installs I did many years ago that amazingly still looks so awesome and new.
It's very impressive to me to see these screens still looking so good years down the road.
How long will the solar screen fabrics last?
I have installations up around Austin that have been up for 15 years that still look outstanding.
I will say that I have taken down solar screens off of homes that I did not put up using what looks like the same fabric, whereby the fabric coating looked like it was degraded.
To be fair, I don't know if the fabric coating was ever cleaned with a bleaching agent that might have long term damaged the fabric's coating. I know for myself I used bleaching agents on some screens for test purposes. While the screens looked perfect for several years, I noticed after about four years those particular screens did show wear when it came to the PVC (UV) coating on them. All of which I contribute to the bleaching agent I put on them years prior.
Will a darker fabric get hotter than a lighter color, therefore not work as well?
People have this idea that the black screen will get hotter than a lighter colored screen, therefore is at a disadvantage.
While yes, darker fabrics will for sure get hotter, but it is totally irrelevant because the solar screen lives outdoors. The fabric and solar screen is outside of the window, so it does not make any difference how much hotter that darker fabric gets. It's totally irrelevant.
As long as you have double paned glass protecting the interior of your home you could technically put a heater outside of the window and the heat from that heater will not resonate into the home. The spacing between the interior and exterior pane of glass will protect the outdoor heat from getting in.
What's the process to get replacement window screens for my residential windows?
What solar screen fabric color is best?
Simply because of ease of maintenance, the darker colors are best.
My Black, Chocolate, and Mocha fabrics I equally recommend over the lighter colors.
The darker black, chocolate and mocha fabrics can get as dirty as they want and will continue to look good and clean. If the darker fabric screens get dusty, you will want to rinse them off. For those darker fabric screens that get grime on them, that's cool because the grime will affect their appearance.
I strongly try to discourage customers when they want to use a lighter colored fabric.
Do you recommend any solar screen fabric colors over others?
For ease of maintenance, for sure the darker colored fabrics.
I like to install solar screens that correspondingly will complement the existing colors of the home.
Example of Mocha fabric with Champagne frame.
Example of Black fabric with Champagne frame.
Have a patio and you want shade for it?  Installed Austin Texas patio roller shades at great pricing.
Example of Mocha fabric with Brown frame.
Example of Black fabric with Brown frame.
Should I get a light or dark solar screen fabric color?
For sure a darker colored fabric. Of course this up to you as to how cool you are with cleaning the fabric. I myself use a lighter colored Beige fabric and for the most part clean my solar screens once a year in the Spring. In summary, if you are the type of person that is cool with the high maintenance of cleaning your screens, then you can use one of the lighter colors. Whereas, if you do not want the maintenance, the darker colored fabrics are going to be your best option.
What's the difference between a manual and motorized exterior retractable Roller Shades?
How do I choose a solar screen fabric color?
On balance you will want to tie in the fabric color with something else of significance on your home. For example, you can match the color of your roof, you can match the accents of your home like the fixtures.
Will you help me choose the best color of solar screen fabric for my Austin TX home?
Yes! In fact, when I see the home I will leave those recommendations on my recommendation sheet that I will leave behind for you to take a look at.
In addition and together with that recommendation sheet I will also tell you what shade density I recommend for each window.
Furthermore, with those recommendations, I will also leave a sample kit that has all of those fabric and frame recommendations within it.
Will one color give better privacy than the other?
Your eyes work by reflective light, so technically the lighter colors will give you the best daytime privacy.
No solar fabric will give you evening privacy however.
For this reason, you will want to have blinds for the evening privacy.
How about evening privacy, will one of the solar screen fabric colors provide better evening privacy than the others?
No, not even a 99% solar shade fabric will give you evening privacy.
If the lights are turned on inside the home, your eyes can see through the fabric to that reflective light, as can be seen by way of the following picture.
Alongside the solar screens, you will at the same time need some kind of internal blinds or drapery for evening privacy.
What are manual exterior patio Roller Shades?
Will one solar screen fabric color outlast the others?
No! All things considered and being equal, the Twitchell Textilene fabric regardless of color will all last the same.
Do you need Solar or Insect replacement window screens?
What is the best way to choose a fabric color for solar window screens?
In the final analysis, it's about how the color you choose will look on the home. By and large, I am very good at making color recommendations, therefore the recommendations I leave behind will be a guide to follow.