The cost difference between the two types of retractable roller shades is substantial.
You can not leave roller shades down when it is windy. Regardless of being a manual or motorized roller shade, you are not to leave them down all of the time. The purpose of roller shades is for temporary sun shade, not as a permanent shading solution.
Comparatively, the motorized zipper tracked high-end systems can withstand the wind MUCH better than a manual non-zipper tracked system.
I manufacturer and altogether install my own line of budget priced, extremely effective at providing sun shade, manual retractable patio-shades. 
My manual outdoor patio shades I make here in Austin TX myself out of a small workroom at 183/Burnet Rd and I install them all myself.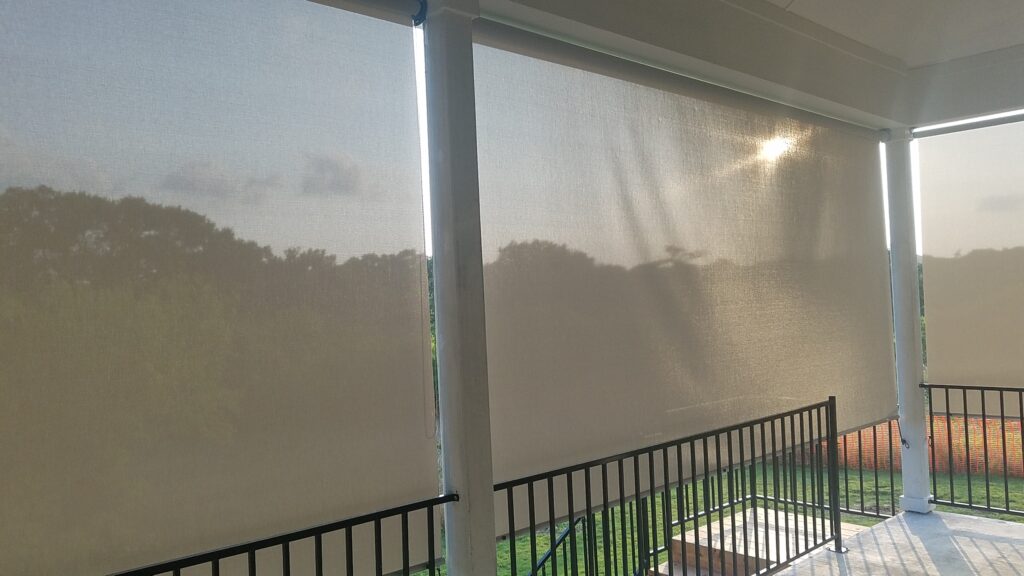 What are manual exterior patio Roller Shades?
Exterior retractable roller shades come in either a manual or a motorized version. You control outdoor manual retractable roller shades by that of a pull chain clutch or a crank system with the wand.
What are motorized outdoor Roller Shades?
Zippertrack costs may be too much.
The hold back for many moreover is the installed costs. Installed motorized zipper track systems comparatively come at a premium. Typically installers double the material cost of the roller shade as a total installed price. A shade that comes landed to them for $4k will sell to you as a turn-key product for $8k. At least that's been what I know to be true as an observant Austin TX Solar Screen installer. I do not sell or install the motorized zipper track systems, but I know now in 2021 what the costs are from the manufacturers, and I know what installers around Austin, TX, are selling them for.
To implement a zipper track motorized system, you need to run electricity to the motorized roller shade. Therefore, that alone will most likely have a substantial cost, which is part of the installer's markup. It is important to realize that running an electrical circuit can be tricky and costly for the installers. As a result, the installers may even have to go through the city to get an electrical permit, and there's a whole lot of time and cost to that alone. You can instead run a long cord from the motor to an outlet to save on cost as a money-saving option FYI.
Batteries or Hard wired?
There may be a rechargeable motor out there that you can run a zipper track system off of, but rechargeable systems come with drawbacks.
One of the major drawbacks is that while batteries sound cool and all for the motor, you will be replacing those batteries over time. By using batteries you do not need to go through the cost of running electrical wires, which is great. This is great of course, but expect to be replacing those batteries.
If you are building a new home, then now is the time to run the electrical wires, in preparation for the motorized roller shades.