In the industry, we call screens with grill lines "grid pattern solar screens". The grid pattern comparatively will follow the lines within your windows, called window grilles. Generally speaking, we can make the grid pattern solar screen to follow any lines that you have within your windows. We can clone the gridlines, or we can choose to skip some. And we can also make a grid pattern of most any pattern that we want to use.
Point being if your windows do not have a grid pattern we can make our own. All things considered, I am very good at doing this kind of creative gridwork.
Artistically, I am extremely good when it comes to creative design.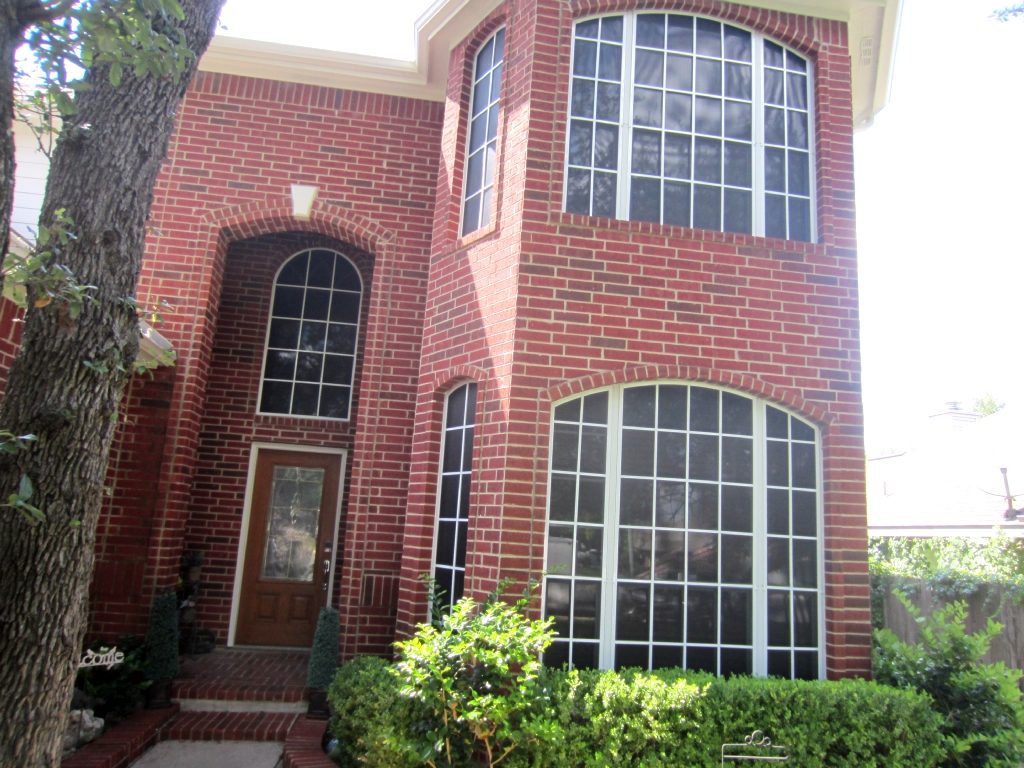 Additional cost for grid solar screens patterns.
The additional cost for grid pattern is a plus $40 per screen.
An example would be for the following picture there is a total of nine solar screens. That would be 9 x $40 = $360 to have each of these nine solar screens made with grilles.
Altogether there is a great deal that goes into manufacturing grid patterns. A lot of work (labor) goes into the manufacturing side, plus the significant added cost of aluminum.
The +$40 price also includes the sales-tax.
Why do insect screens not cover the entire window?
It's not something that a homeowner would most likely want to do for Windows all the way around their home, but for sure for the street visible front windows. The front side of your home is a side that you show off. In essence, it is the side of the some that we would want to use the gridwork for.
Ultimately, it is a labor of love to make these grid-patterned solar screens.
Notching should occur with patterned screens. Grid lines work best when they have notching so that the opposing grid line can run through them.
I have seen some patterned solar screens installed in Austin that are not.
Should I get a light or dark solar screen fabric color?
Around Austin, I have come across many non-notched installations. Some Austin TX solar screen installer is running around installing these inferior made solar screens. To me it is an incredibly poor design, to not notch them.
It takes time to notch them and the end result is all in all remarkably different. I've seen where people will take the horizontal bars and put those on. Then will take the vertical bars and just run them on the outside or the inside of the horizontal piece. That makes for a flimsy solar screen.
All of ours are notched and not only are they notched, for strength, they are also pop riveted. I mean this is a labor of love to make these things. But when they are said and done they are fantastic in every aspect.
Grid work examples.
This Round Rock TX homeowner had me make patterns for all of the windows on her home.
This Round Rock homeowner paid $40 for each grid-work screen upgrade.
She paid to have each and every window on her home to be outfitted with grid patterns.
She wanted all of her windows to be equally important looking.
This apartment community had over 1,600 grid pattern screens put on it.
This was markedly a monster of a San Antonio multifamily solar screen project.
Every window, including the 400+ sliding doors got a grid-pattern solar screen.
Gridlines for these screens furthermore went above and beyond toward the dressing up of this apartment community.