We made these solar screens for this customer in Kyle, Texas.  There are quite a few windows that make up the installation for this Kyle TX solar screens project.  There are quite a few windows on this home that we installed our solar window screens on.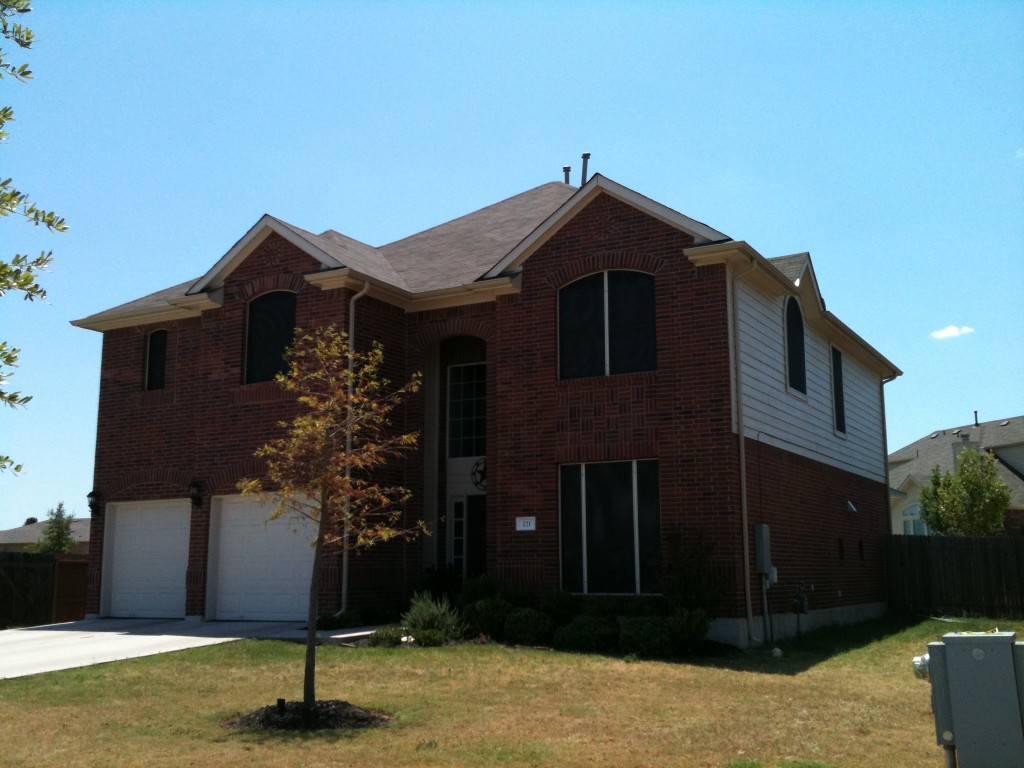 The customer did not have us make solar screens for the window over the front door and those two sidelight windows around the front door.
The house would have looked cleaner and better had he had us put solar screens on those windows but he chose to not do that.
I would have liked to have seen solar screens on those windows.
The solar screen fabric color that we used here for this solar screen Kyle Texas project was our black fabric.  The black fabric is the right color of fabric for this shade of red brick. It's a fabric color that we use quite often for this shade of red brick.
We used the white framing, as the white solar screen framing matches the window framing.
There's a solar screen there on the right side of the home. It's on the second floor, that full arched solar screen. That one arched solar screen is covering two windows. One non-opening rectangular window, with a half circle mounted on top of it. Because they're both non-opening windows, we were able to make one large solar screen to fit over the two non-opening windows. We 99% of the time install one solar screen per window.
A great illustration of that is there on the front of the home. The front of this solar screens Kyle TX home you'll see there on the second floor to the right two half arched windows. That's two half Arch Windows mounted side by side. We installed two half arched solar screens.
Over the garage, you'll see a large full-size arched window. That is a full-size window that opens up and down. It's a full-size arched window, therefore, we made a full-size solar screen for it.