See how there's a solar screen on the back patio door?   Even though that back patio door is under a shaded patio this homeowner still chose to put a solar screen on that patio door.
We could have installed some of our outdoor patio screens for this patio. These outdoor screens roll up and down to provide temporary shade for the outdoor patio.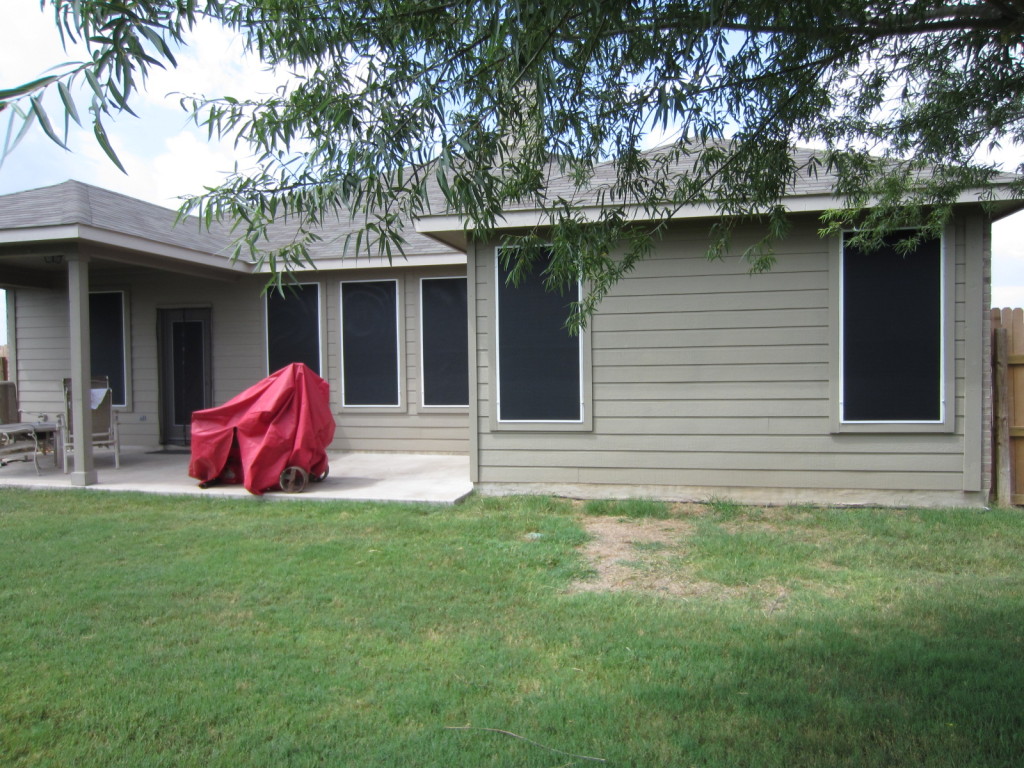 This is a home that we put solar screens on in Buda, Texas. We initially did this solar screens Buda TX install for solar screens on the left, front, and right sides of this home two months earlier to this installation. This customer, true to form with a lot of our other customers, called us back a couple of months later to finish off the rest of their house. We often get these requests where people will try one, two, or three sides, and they call us back to finish off the rest of the house.
Breaking jobs up into multiple orders.
By looking at our solar screens for windows pricing page on our website, you will be able to see the quantity discounts for completing your house with solar screens at one time during one installation versus breaking the job up into multiple jobs like this. It is, by far, more advantageous to do your solar screen Austin TX job at one time than it is to do it in multiple stages like this.
If you live in the Austin Texas area, that are looking to do solar window screens Austin Texas installation, we recommend that you not break the order up into stages. Pricing is reduced considerably when you do more windows at one time. In other words there are pricing breaks. The pricing breaks are at 15%, 20% and 25% off. All at quantity levels.  We even give an additional discount if you put the solar window screens on all of your windows.  We do this because situations just like this at this post come up often. People that will leave off solar screens around the front door, for example, have a tendency to call us back to add solar screens. When you do that, there is an additional measure and installation charge. Where buy if you just got the solar screens in the beginning that's part of the main order, the pricing is considerably less. I encourage you to strongly look at all of our pricing options.